Scotland Men - Germany 2024
group A p w d l f - a pt
qual Spain 8 7 0 1 25- 5 21
qual Scotland 8 5 2 1 17- 8 17
Norway 8 3 2 3 14-12 11
Georgia 8 2 2 4 12-18 8
Cyprus 8 0 0 8 3-28 0
25.03.23 - Scotland 3-0 Cyprus
25.03.23 - Spain 3-0 Norway
28.03.23 - Georgia 1-1 Norway
28.03.23 - Scotland 2-0 Spain
17.06.23 - Norway 1-2 Scotland
17.06.23 - Cyprus 1-2 Georgia
20.06.23 - Norway 3-1 Cyprus
20.06.23 - Scotland 2-0 Georgia
08.09.23 - Georgia 1-7 Spain
08.09.23 - Cyprus 0-3 Scotland
11.09.23 - Norway 2-1 Georgia
11.09.23 - Spain 6-0 Cyprus
12.10.23 - Cyprus 0-4 Norway
12.10.23 - Spain 2-0 Scotland
15.10.23 - Georgia 4-0 Cyprus
15.10.23 - Norway 0-1 Spain
16.11.23 - Georgia 2-2 Scotland
16.11.23 - Cyprus 1-3 Spain
19.11.23 - Scotland 3-3 Norway
19.11.23 - Spain 3-1 Georgia
Scotland Women
Nations League A1 - p w d l f -a pt
Netherlands 6 4 0 2 14-6 12
England 6 4 0 2 15-8 12
Belgium 6 2 2 4 7-10 8
Scotland 6 0 2 4 3-15 2
22.09.23 - England 2-1 Scotland
26.09.23 - Scotland 1-1 Belgium
27.10.23 - Netherlands 4-0 Scotland
31.10.23 - Scotland 0-1 Netherlands
01.12.23 - Belgium 1-1 Scotland
05.12.23 - Scotland 0-6 England
Scotland relegated to League B
u-23.Friendly -
01.12.23 - Netherlands 3-1 Scotland
Scotland Wu-19 -
- rd 2 group B2 p w d l f -a pt
Scotland 0 0 0 0 0 -0 0
hosts Albania 0 0 0 0 0 -0 0
Cyprus 0 0 0 0 0 -0 0
Liechtenstein 0 0 0 0 0 -0 0
03,04.24 - Scotland - Liechtenstein
03,04.24 - Albania - Cyprus
06,04.24 - Cyprus - Scotland
06,04.24 - Albania - Liechtenstein
09,04.24 - Liechtenstein - Cyprus
09,04.24 - Albania - Scotland
Scotland Wu-17 - Sweden 2024
- rd.2 group A7 p w d l f -a pt
hosts Poland 0 0 0 0 0 -0 0
Denmark 0 0 0 0 0 -0 0
Scotland 0 0 0 0 0 -0 0
N.Macedonia 0 0 0 0 0 -0 0
13.03,24 - Denmark - Scotland
13.03,24 - Poland - N.Macedonia
16.03,24 - Poland - Scotland
16.03,24 - Denmark - N.Macedonia
19.03,24 - N.Macedonia - Scotland
19.03,24 - Poland - Denmark
Scotland u-21 - Slovakia 2025
group B - p w d l f-a p
Spain 5 4 1 0 14-1 13
Scotland 5 3 1 1 7 -3 10
Belgium 5 3 1 1 5 -3 10
Hungary 6 2 2 3 6 -6 7
Kazakhstan 4 1 0 3 2 -7 3
Malta 5 0 0 5 1-15 0
07.09.23 - Hungary 2-0 Kazakhstan
08.09.23 - Malta 0-6 Spain
11.09.23 - Belgium 1-0 Kazakhstan
11.09.23 - Spain 1-0 Scotland
12.09.23 - Malta 0-3 Hungary
13.10.23 - Malta 0-2 Belgium
13.10.23 - Scotland 3-1 Hungary
17.10.23 - Scotland 2-1 Malta
17.10.23 - Kazakhstan 0-4 Spain
17.10.23 - Hungary 0-1 Belgium
16.11.23 - Malta 0-2 Kazakhstan
17.11.23 - Belgium 0-2 Scotland
17.11.23 - Spain 2-0 Hungary
21.11.23 - Belgium 1-1 Spain
21.11.23 - Hungary 0-0 Scotland
21.03.24 - Belgium - Malta
21.03.24 - Scotland - Kazakhstan
26.03.24 - Spain - Belgium
26.03.24 - Kazakhstan - Hungary
04.09.24 - Kazakhstan - Malta
05.09.24 - Scotland - Spain
09.09.24 - Malta - Scotland
09.09.24 - Hungary - Spain
09.09.24 - Kazakhstan - Belgium
09.10.24 - Hungary - Malta
09.10.24 - Spain - Kazakhstan
10.10.24 - Scotland - Belgium
14.10.24 - Spain - Malta
14.10.24 - Belgium - Hungary
14.10.24 - Kazakhstan - Scotland
----------------------------------------
Play-offs - Nov 11-19, 2024
9 winners + 3 r-up qualify ... 6 r-up p-off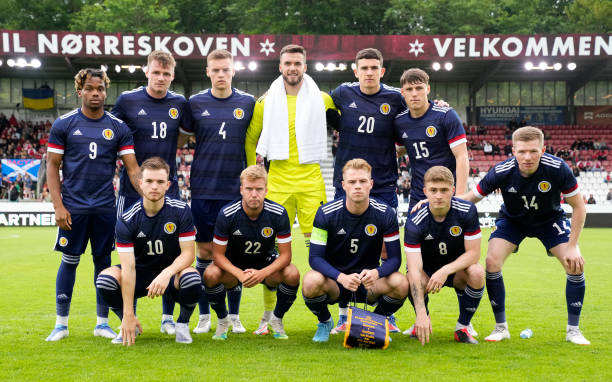 Scotland u-19 - N.Ireland 2024
- rd.2 group 5 p w d l f -a pt
Scotland 0 0 0 0 0 -0 0
Czechia 0 0 0 0 0 -0 0
Georgia 0 0 0 0 0 -0 0
hosts Italy 0 0 0 0 0 -0 0
20.03.24 - Italy - Scotland
20.03.24 - Czechia - Georgia
23.03.24 - Scotland - Georgia
23.03.24 - Italy - Czechia
26.03.24 - Czechia - Scotland
26.03.24 - Italy - Georgia
Scotland u-17 -
- rd.1 group 7 p w d l f -a pt
hosts Turkiye 3 2 1 0 4 -0 7
Belarus 3 1 1 1 3 -2 4
Scotland 3 1 0 2 3 -6 3
Kazakhstan 3 0 2 1 0 -2 2
Scotland failed to qualify for Elite rd.
Nothing now for u-17 until the draw for the
new format (nations league) competition in
24-25, which will bump on into the u-19 changeover in 26-27. There will need to be
a big improvement to have any chance of
FIFA u-19 in 2025.